TEHRAN (FNA)- Head of the Iranian Judiciary's High Council for Human Rights Ali Baqeri Kani urged Germany to remove existing human rights ambiguities and cooperate for completion of the assassination case of the former Commander of the Islamic Revolution Guards Force Quds Force Martyr Qassem Soleimani.
According to Ashoora reporting from Fars news:
Baqeri Kani called on the German Ambassador to Tehran Hans Odo Motzel on Sunday to cooperate with Iran's judiciary for the completion of assassination case of martyr Soleimani as well as removal of ambiguities on the perpetrators of this heinous crime.
He pointed to Iran's positions in supporting the oppressed Palestinian and Yemeni people against occupiers and aggressors as well as the support of Western countries for the Zionist and Saudi regimes, and said, "Politics in the Islamic Republic of Iran is based on human rights while in the Western countries it is human rights that are based on politics."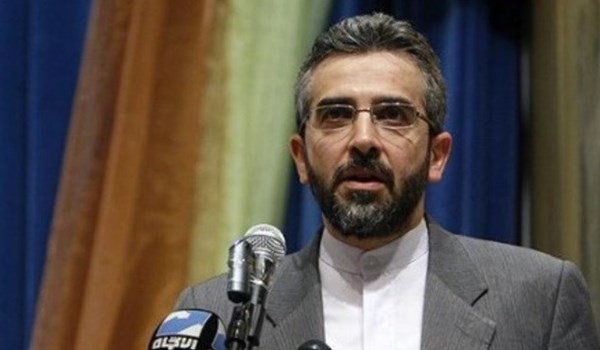 Head of the Iranian Judiciary's High Council for Human Rights Ali Baqeri Kani
"The position of the Islamic Republic of Iran on peaceful nuclear activities and missile capabilities is also deep rooted in human rights because the Iranian nation has the right to use its capabilities to enhance the country's scientific, technological and industrial capabilities to be able to defend its territorial integrity and national security," he went on to say.
"The prerequisite for progress in human rights interaction and understanding is that Westerners give up looking at human rights through political inclinations."
German envoy to Tehran, for his part, presented an outlook of his country on human rights and added, "We should try to settle differences and ambiguities on the issue of human rights with mutual cooperation and interaction."
In relevant remarks last week, Baqeri Kani lambasted the western states for their double-standard policy towards terrorism and silence on human rights violation.
"Since the performance of Hezbollah in Lebanon, Hashad al-Shaabi in Iraq, and Ansarullah in Yemen are against the interests and policies of the West, they put them on the list of terrorist groups although they know that these streams are the true defenders of the rights of the regional nations," Baqeri Kani said on Wednesday.
"On the other hand, because Monafeqin (anti-Iran Mojahedin-e Khalq Organization also known as the MKO, MEK, PMOI and NCRI) meets their (the westerners') illegitimate interests, they remove them from the list of terrorist groups and even provide them with different possibilities despite all their killings and crimes," he added.
Baqeri Kani, meantime, criticized the countries which voted for the recent UN human rights resolution against Iran but did not condemn the assassination of Iranian nuclear scientist Mohsen Fakhrizadeh which is a clear instance of human rights violation.